Virginia home to region's lowest unemployment rate
Virginia home to region's lowest unemployment rate
The commonwealth boasts jobs growth of nearly 45% over the last three decades, well ahead of its peers to the north.
Virginia's dynamic modern economy belies the moniker "Old Dominion."
The commonwealth boasts the region's lowest unemployment rate and decades of steady, and at times booming, job creation. Virginia has a few built-in advantages, of course, especially the proximity of Northern Virginia to the nation's capital and the contracting jobs that come with it.
But in other ways, Virginia has punched its own ticket through competitive regulations, taxes and labor policies –starting with right-to-work protections.
The Virginia Economic Development Partnership, a creation of the state legislature, begins its narrative on the state's business climate by hailing Virginia as the "northern-most right-to-work state on the East Coast." Right-to-work protections simply mean a worker cannot be fired for refusing to join a union. In addition, the state boasts a highly competitive regulatory environment and passably competitive state (if not always local) business taxes.
The results speak for themselves.
Healthy business climate has all but eliminated joblessness in Virginia
Virginia's 2.6% unemployment rate as of December 2019 is the envy of the region, and it's not even close, with Maryland at 3.6% unemployment, New York at 4.0%, Pennsylvania at 4.3%, and the District of Columbia at 5.3%, to name a few.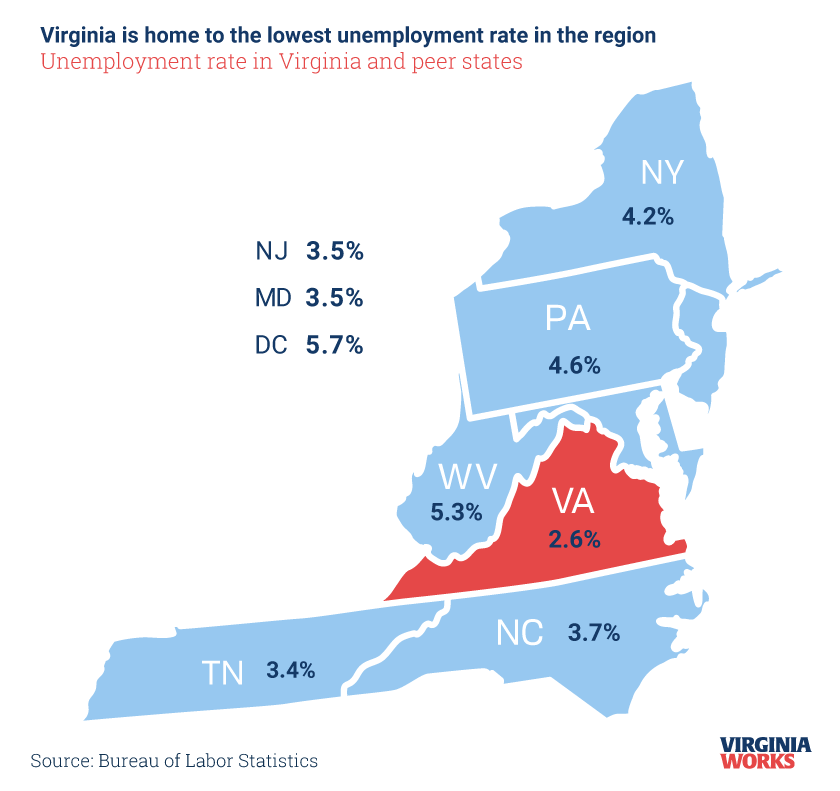 Over the past three decades, state employment has risen 44.5% in Virginia, behind only Tennessee and North Carolina in the surrounding region, and well ahead of Mid-Atlantic and Northeastern competitors like Maryland (29.9%), New York (24.9%), Pennsylvania (21.0%), and New Jersey (18.8%).
But peer states are on the move.
Since 2010, Tennessee and North Carolina have witnessed employment growth of 24.5% and 23.1% respectively, compared to a much more modest 13.9% in Virginia. Both states are business-friendly, pro-investment, low-regulation and have right-to-work protections. Tennessee does not impose an individual income tax. And in 2013, North Carolina commenced a multiyear overhaul of its tax code – individual and corporate income taxes, sales taxes, and more – to make the state more competitive. Those efforts are paying off, and Virginia hasn't kept pace.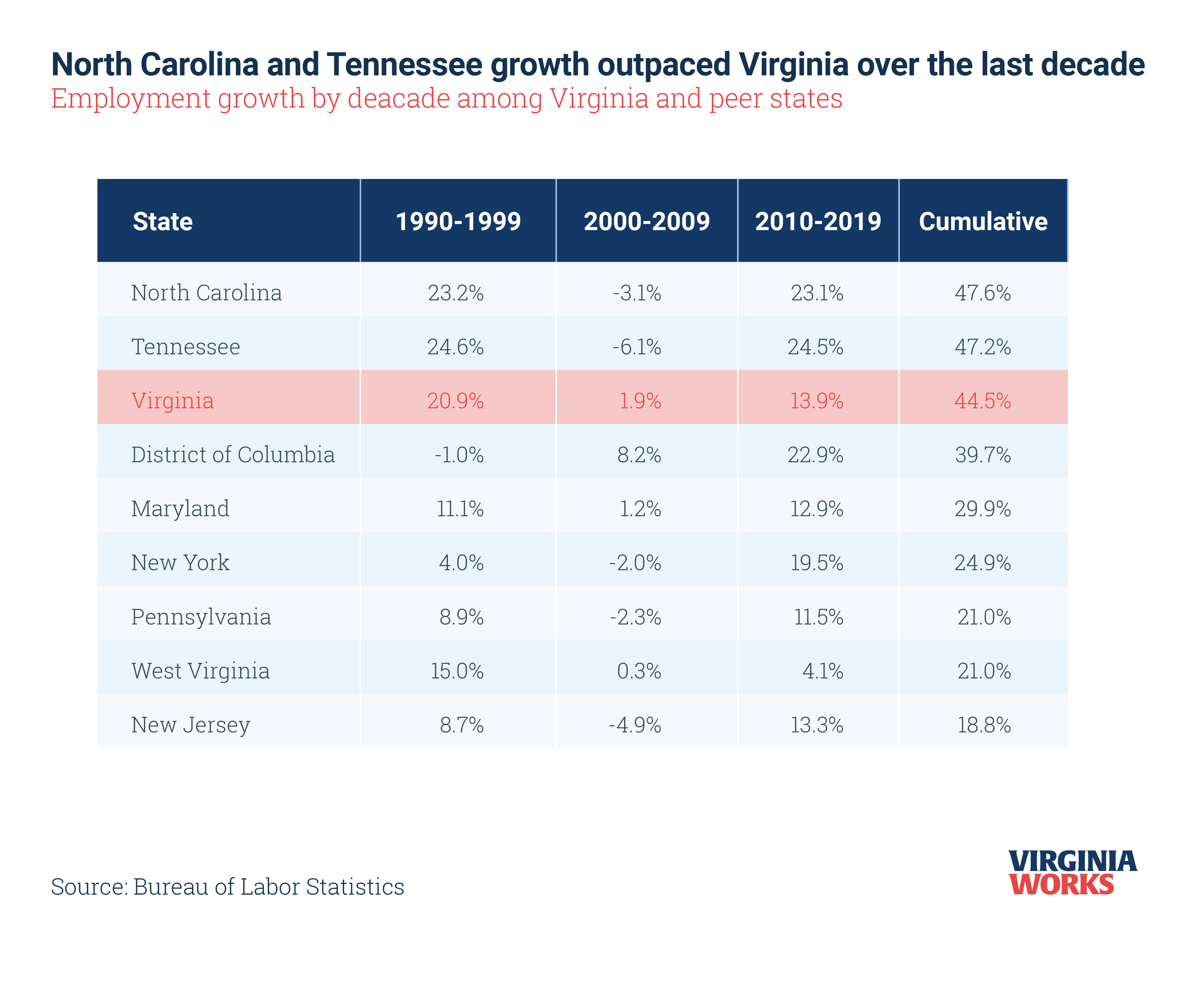 Protecting past success, preparing for the future
Despite healthy growth, warning lights are flashing in the commonwealth.
In recent years, wage growth has slowed, still edging Maryland, New Jersey and New York, but falling behind other regional competitors, including North Carolina, Pennsylvania, and even the District of Columbia, which reformed its own tax code in 2014 and has spent 20 years successfully reclaiming lost ground after struggling throughout the 1990s.
A changing global economy is wreaking havoc on the traditional economies of rural communities in Southwest and Southside Virginia, while poorly designed local business taxes which were tolerated in good times are proving particularly destructive now. Prevailing wage laws and project labor agreements are increasingly taking hold in Virginia, and even the state's right-to-work law, a mainstay of Virginia's economic development toolkit since 1947, is under siege.
For decades, Virginia has been a regional and even national success story, and that won't change overnight. The commonwealth recently reclaimed its title as CNBC's "top state for business," and ranks fourth on the Forbes list (North Carolina is first), winning high marks for labor force, regulatory environment, and quality of life. But nothing lasts forever. Higher taxes, more onerous regulations, the abolition of right-to-work and extreme collective bargaining laws, all increasingly realistic prospects, would put Virginia at a disadvantage compared to its peers.
The so-called "new south" has been an enormous success story, with pro-business policies driving economic renewal and expansion. Virginia has epitomized that story and capitalized on its strategic location – geographically connected to the northeast corridor, with its traditional business concentration, but economically aligned with the more dynamic south.
As the northernmost of the southern states, Virginia is uniquely positioned for success.
Without proper diligence, however, Virginia's alignment could change. The Commonwealth could go from the northernmost of the southern states – the most dynamic state with ease of access to the northeast – to, economically speaking, the southernmost of the northern states.
That's a reversal Virginia cannot afford.